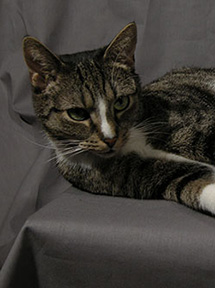 RW SGM Filip
born circa 2005-07-14, male household pet shorthair brown (black) mackerel (striped) tabby with white

Filip (Philip) was our rescue cat. Like all the other rescues, after treatment and neutering he was supposed to find his forever home. And I thought he did. But ... he had a mind of his own.
He made his decision known to everybody and we didn't have a choice. He came back to us and stayed and was the one to break the "third cat barrier".
At the beginning Filip was very shy. We were quite shocked, when after his first show (to which we took him with some reservations), he turned out to be a perfect show cat.
Today he is a veteran of many shows, claims right to a lofty title of FIFe's Distinguished Show Merit, has his own shelf full of prizes and a drawer full of diplomas ;) In private he is a total lap cat and allows us to do everything with him.

We said goodbye to Filip November 14th, 2016 - he lost his fight with brain cancer.