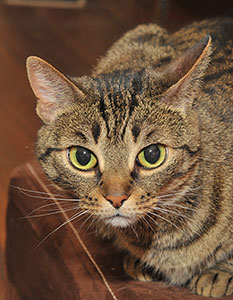 Furia
born. 2003-03-28, female household pet shorthair brown (black) mackerel (striped) tabby

Furia (her name means Fury). My first cat.
I got her when she was a tiny kitten and she was the one that really taught me what does it mean to have a cat. Friends and family cats won't do that for you ;)
Small, but full of energy, she soon got a list of nicknames, the first of them being "Futrzak" (pronounce like foot-shack, means Furball), and second a similar sounding "Footchuck" - her favorite way of waking us up was to bite our toes. She was the reason we gave home to another cat. She proved beyond doubt, that a kitten needs company of another kitten.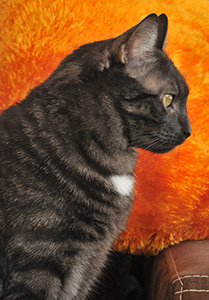 RW SGM Krecik
born circa 2003-05-05, male household pet shorthair black smoke with white
Krecik (his name means baby mole) came to us as a companion for Furia. And he was a hit!
While they were both young, they entertained us daily with their plays and antics. We had the best of entertainments absolutely for free. All right, I forgot about cat food ;) But the ability to observe two maturing kittens is one of life's greatest pleasures.
Krecik and Furia went to their first cat show in 2005. For Furia it was also the last show - she particularily disliked it. Quite the opposite with Krecik - he thrives for people attention and abundance of hands that can pet him. He doesn't always do very well in the ring - he isn't very friendly with his competitors. But in the show cage, or rather up on it, he is a real showman. Or should I say showcat? ;)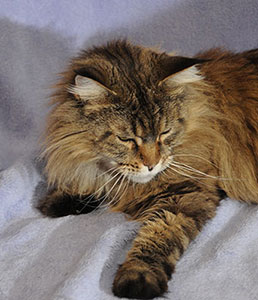 EP Amiga Kocurro*PL, DSM
born 2001-08-01, female maine coon brown (black) mackerel (striped) tabby
Amiga is my husband's dream came true.
A truly wonderful representative of her breed, she came to us by a stroke of fate. Her previous owners couldn't care for her any more and her breeder was looking for a new home for her.
She was a single cat, and we were afraid if she can adjust to living among other cats.
But we decided to give it a try.
Amiga never learned to love our other cats and while they all live in peace, she keeps her distance. But she loves us with all her heart and we return the sentiment. She cannot imagine a place to sleep other than our bed. Neither can we ;)
Amiga started her show career at the age of 5 and despite that she did great. The results are European Premior and Distinguished Show Merit titles in FIFe and a shelf with prizes very alike Filip's.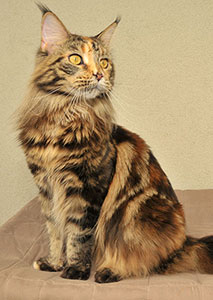 RW SGCA Gullis Grey Shadow*PL
born 12-07-2010, female maine coon brown (black) classic torbie

At home Gullis is called Gummi Bear. She is our youngest alter and not at all typical member of her breed.
Gummi thinks she is a bengal and she acts accordingly. The only thing is, a more than a meter long cat weighting 6 kilos has a bit more impact than a medium sized bengal. Alas, life has become more interesting since Gummi is with us ;)
Gummi upholds our home tradition by storming the show halls like a pro.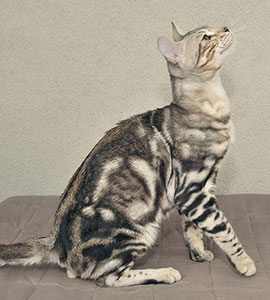 GRC/SGCA Enumaelisch SilverSurfer of Ilendri
born 20-09-2010, male bengal black silver marble tabby

SilverSurfer, AKA WrongColor is a sweet cat ... with wrong color ;) I was looking a long time for a brown marbled boy, but when I saw him - with his beautiful head, excellent body and sweetest disposition, I just couldn't say no to him.
And he is silver. So what? I will get over it ;)
His friends nicknamed him Duracell - all because of the famous bunnies from the battery commercial. The ones that had ten times more energy than the others. It suffices to say the nickname is well deserved.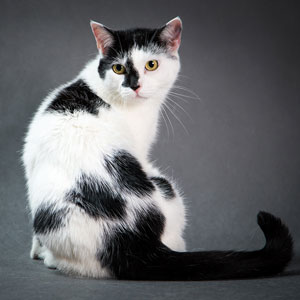 SGM Satini
born circa 27-05-2007, female household pet shorthair black with white

Satini is an example of the fact that no good deed will go unpunished ;) She was returned to me from adoption three times, from three different families that had previous experience with cats. After the last time I said enough is enough and she must clearly stay with me.
Of course, staying with me DID come with a price. Miss Satini had her debut in the showhalls and ... she was quite sucessful. She has shown her two male HHP friends that they cannot be sure of winning each and every time ;)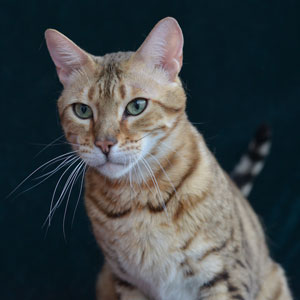 Malut (Ilendri Dash)
born 2015-03-16, male bengal brown (black) spotted tabby

A cat who got his name, Malut (Little) even before I decided on pedigree names for him and his sister. His mom got sick while pregnant and Malut was born with a severe heart problem. When I took him to a cardiologist when he was 6 weeks old, I heard "He will not make it to one year".
Well, his first birthday was a big affair. And I think nobody told Malut he is sick, because even tough he have lived for 3 years now with his condition, he still plays like a kitten...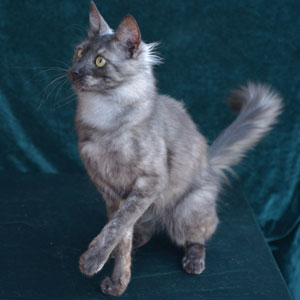 RW SGCA Zooloo Flamboya
born 2016-07-11, male turkish angora black smoke

All my life I have thought bengal cats were the craziest breed. And then I got myself a turkish angora...
His home name is Frędzel (Fringe), because he is... a crazy Fringe ;) He is everywhere, he plays like there is no tomorrow, Tigger can't compete. He is also very smart. And incredibly fast. When he wants to get somwhere (where he should not be), he just turns on light speed and nobody can stop him ;)